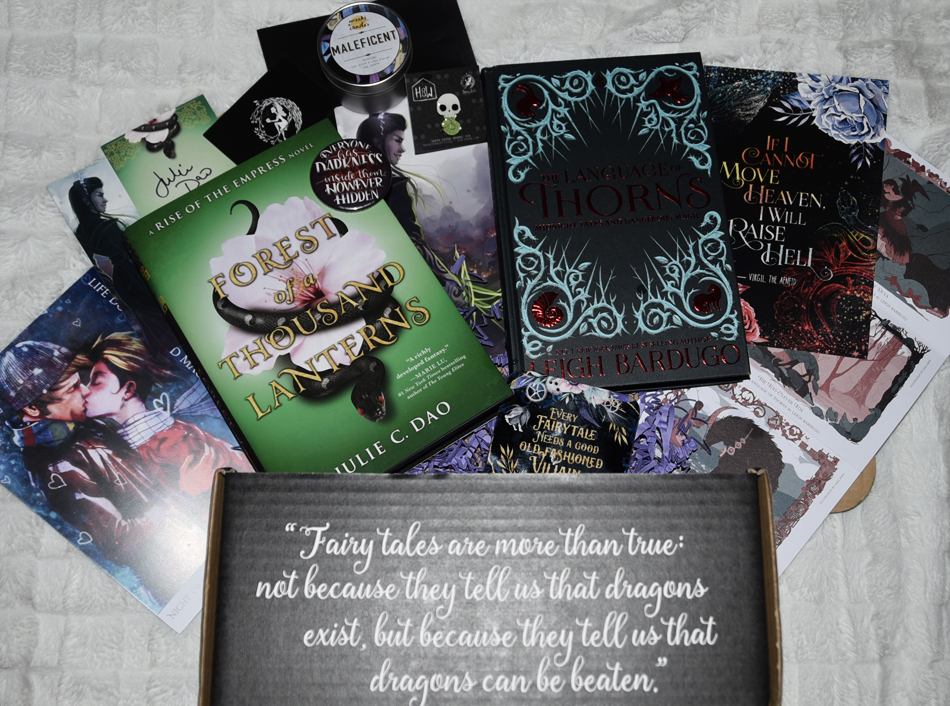 Två böcker i en box känns betydligt bättre än en massa småsaker. Här fick vi både och! Jag tyckte verkligen om den söta lilla dödsätarpin:en och doftljuset luktade så gott! Underlägget och spegeln började jag använda direkt. Det här var en riktigt bra box!
I den här boxen så fick jag:
Boken Forest Of A Thousand Lanterns av Julie C. Dao
Boken The Language Of Thorns av Leigh BardugoIt med exklusivt bokomslag
Vykort med illustrationer från The Language of Thorns
Underlägg från Evie Seo med citatet 'Every fairytale needs a good old fashioned villain' inspirerad av Jim Moriarty
'Raise Hell' print av Evie Seo med ett citat från The Aeneid av Virgil
Maleficent doftljus från Meraki Candles
Fickspegel designad av Little Inkling Designs med ett citat från The Young Elites av Marie Lu
Dödsätare-pin från House Of Wonderland
Brev från författaren, signerat klistermärke (bookplate), månadens tema-bokmärke.
Här kan ni läsa lite om boken:
An East Asian fantasy reimagining of The Evil Queen legend about one peasant girl's quest to become Empress–and the darkness she must unleash to achieve her destiny.

Eighteen-year-old Xifeng is beautiful. The stars say she is destined for greatness, that she is meant to be Empress of Feng Lu. But only if she embraces the darkness within her. Growing up as a peasant in a forgotten village on the edge of the map, Xifeng longs to fulfill the destiny promised to her by her cruel aunt, the witch Guma, who has read the cards and seen glimmers of Xifeng's majestic future. But is the price of the throne too high?

Because in order to achieve greatness, she must spurn the young man who loves her and exploit the callous magic that runs through her veins–sorcery fueled by eating the hearts of the recently killed. For the god who has sent her on this journey will not be satisfied until his power is absolute.
Nästa box har inte kommit än, men är på väg!