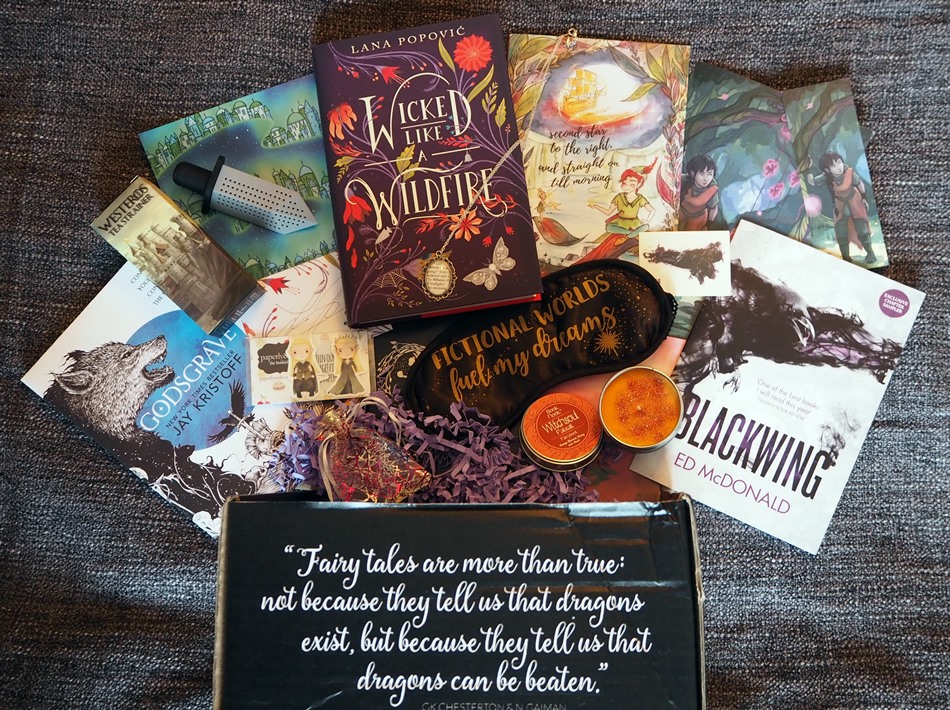 Jag har kommit lite efter med att lägga upp mina boxar, men temat för augusti var hur som haver "Otherworlds". Den här boxen var jag inte lika förtjust i som tidigare, men jag älskade bokmärkena och ljuset. Halsbandet gick tyvärr sönder ganska fort annars så var det en favorit också. Tesilen är verkligen in Game of Thrones-aktig utan enbart ett svärd som kan komma från allt annat än serien i fråga. Lite snålt att inte gravera in en varg eller något på det…
I den här boxen så fick jag:
Boken Wicked like Wildfire av Lana Popović

Game of Thrones Westeros Tesil

Book and Nook Doftljus

"Fictional worlds fuel my dreams" Sovmask i satin

Oh Panda Eyes Halsband med text från A Court of Mist and Fury
Handmålad anteckningsbok med Petar Pan-tema av TJ Lubrano

Lord of the Rings magnetiska bokmärken (Legolas och Thranduil)

Norrsken-print av Melissa Nettleship inspirerad av Philip Pullmans böcker
Läsprov/poster av boken Godsgrave
Läsprov/tatuering av boken Blackwing
Brev från författaren, signerat klistermärke (bookplate), månadens tema-bokmärke.
Här kan ni läsa lite om boken:
All the women in Iris and Malina's family have the unique magical ability or "gleam" to manipulate beauty. Iris sees flowers as fractals and turns her kaleidoscope visions into glasswork, while Malina interprets moods as music. But their mother has strict rules to keep their gifts a secret, even in their secluded sea-side town. Iris and Malina are not allowed to share their magic with anyone, and above all, they are forbidden from falling in love. But when their mother is mysteriously attacked, the sisters will have to unearth the truth behind the quiet lives their mother has built for them. They will discover a wicked curse that haunts their family line—but will they find that the very magic that bonds them together is destined to tear them apart forever
Undrar vad nästa box innehåller…