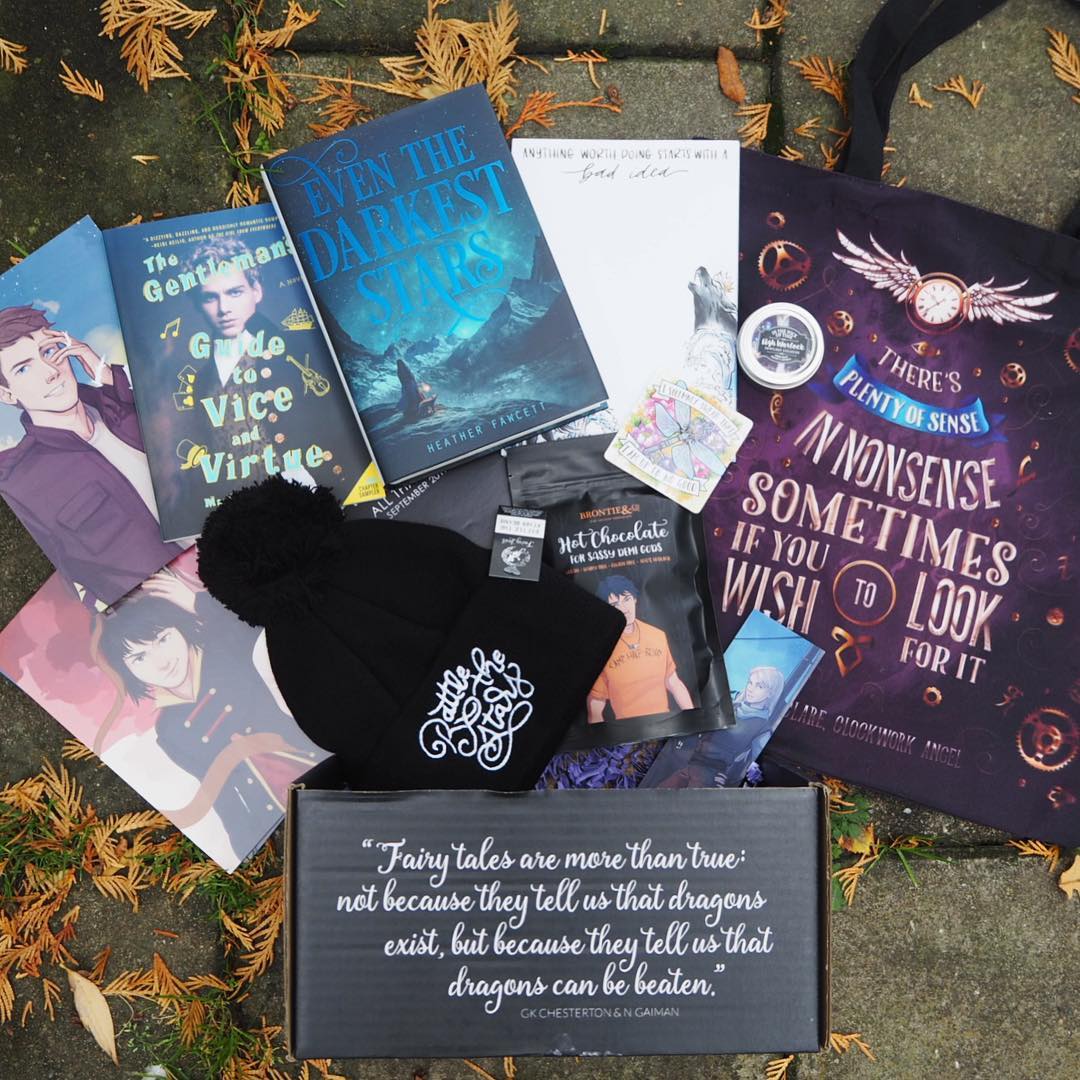 Det här var en perfekt höstbox! Temat tycker jag var lite vagt, men innehållet var desto bättre.
Mössan blev direkt min favorit tillsammans med kassen. Nästan för fina för att använda… Läsprovet gjorde att jag gick och bokade boken direkt på biblioteket. Chokladen har jag inte vågat testa än då den är vegansk och det låter inte så gott med choklad utan mjölk, men jag ska ge den en chans. Magneten är det enda som jag inte var så förtjust i, men så tycker jag inte om magneter i allmänhet.
I den här boxen så fick jag:
Boken Even the Darkest Stars av Heather Fawcett

Mössa från Reverie And Ink inspirerad av Glastronen-serien med citatet 'Rattle The Stars'
Tygkasse från Miss Phi inspirerad av The Infernal Devices
Magnet från Ink and Wonder Designs inspirerad av Harry Potter med citatet 'I solemnly swear that I am up to no good'

High Warlock Doftljus från In The Wick Of Time inspirerad av Magnus Bane från The Mortal Instruments.
Varm choklad-pulver från Brontie & Co inspirerad av Percy Jackson
Anteckningsblock designat av Alexis Lampley inspirerad av Grisha trilogin
Illustationer av Taratjah med karaktärer från The Lunar Chronicles och Shades of Magic.
Läsprov av boken The Gentleman's Guide to Vice and Virtue
Brev från författaren, signerat klistermärke (bookplate), månadens tema-bokmärke.
Här kan ni läsa lite om boken:
Kamzin has always dreamed of becoming one of the Emperor's royal explorers, the elite climbers tasked with mapping the wintry, mountainous Empire and spying on its enemies. She knows she could be the best in the world, if only someone would give her a chance.

But everything changes when the mysterious and eccentric River Shara, the greatest explorer ever known, arrives in her village and demands to hire Kamzin—not her older sister Lusha, as everyone had expected—for his next expedition. This is Kamzin's chance to prove herself—even though River's mission to retrieve a rare talisman for the emperor means climbing Raksha, the tallest and deadliest mountain in the Aryas. Then Lusha sets off on her own mission to Raksha with a rival explorer who is determined to best River, and Kamzin must decide what's most important to her: protecting her sister from the countless perils of the climb or beating her to the summit.

The challenges of climbing Raksha are unlike anything Kamzin expected—or prepared for—with avalanches, ice chasms, ghosts, and even worse at every turn. And as dark secrets are revealed, Kamzin must unravel the truth of their mission and of her companions—while surviving the deadliest climb she has ever faced.
Nästa box ska bli spännande att få visa upp!