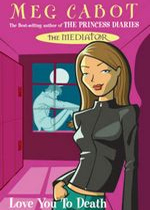 The Mediator 1: Love You to Death av Meg Cabot
I can see ghosts. I can talk to ghosts, and if necessary, I can kick some serious ghost butt. Suze is a mediator. Which means she spends a lot of time directing the unhappy dead into the afterlife. And it isn't easy – not all ghouls want to be guided.
Newly arrived in California, Suze has hardly unpacked when her mediator skills are put to the test. A vicious spirit is hell-bent on making her life a complete nightmare. At least she's sharing her bedroom with Jesse – the most gorgeous ghost ever. But dare she make a move on the sexiest spook in town?
Min nya favoritserie av Meg Cabot. En underbart rolig och bra bok, med ett väldigt bra tema som jag älskar. Den här boken har precis kommit ut på svenska, då heter den "Hemsökt – Älska dig till döds".





Titel: The Mediator 1: Shadowland | Författare: Meg Cabot | Förlag: Pan Macmillan | Format: Häftad | Sidantal: 199 | Utläst: 2004-04-15 | Utgivningsår: 2004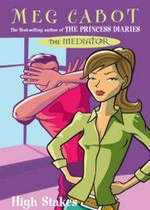 The Mediator 2: High Stakes av Meg Cabot
Some mediators think we should treat all ghosts with dignity and respect, without use of fists. I disagree. Suze's new life in California is looking up. Cool friends, pool parties, good-hair days, the gorgeous ghost, Jesse, who hangs out in her bedroom. Best of all Tad, the cutest (live) boy in town, just asked her out!
But then a screaming spirit wakes Suze in the middle of the night wit ha very important message. Suddenly she's on the trail of a creepy local businessman, who might or might not be a vampire. Oh, and who also happens to be Tad's dad. Suze's life just got dead complicated. Again.
Lika bra som sin föregångare, men nu när man känner bokens huvudpersoner lite bättre så är det enklare att ta den till sig. Jag tycker att Suze påminner väldigt mycket om mig själv och då blir förstås boken ännu bättre. Trots en väldigt lustig handling med vampyrer och psykopater inblandade.





Titel: The Mediator 2: Ninth Key | Författare: Meg Cabot | Förlag: Pan Macmillan | Format: Häftad | Sidantal: 200 | Utläst: 2004-06-15 | Utgivningsår: 2004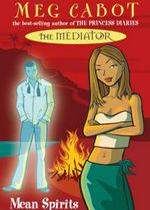 The Mediator 3: Mean Spirits av Meg Cabot
Most people do not end up as ghosts. God forbid. If that were true, my social life would be SO over.
School is definately out! And Suze is set to spend the summer down at the beach with her best friend, Gina. Then she runs into the vengeful ghosts of four high-school students. They're out to wreak some seriously dangerous havoc – and only Suze has the mediating skills to stop them. But she'd better act fast, before the mean spirits turn on her…
Böckerna blir bara bättre och bättre. Suze är en tjej som tar saker och ting i egna händer och lyssnar inte på de råd hon får från andra. Vilket resulterar i riktigt roliga och intressanta händelser som gör boken så bra som den kan bli.





Titel: The Mediator 3: Reunion | Författare: Meg Cabot | Förlag: Pan Macmillan | Format: Häftad | Sidantal: 218 | Utläst: 2005-02-15 | Utgivningsår: 2005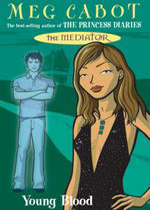 The Mediator 4: Young Blood av Meg Cabot
Suze should be spending the summer vacation at the beach. Instead, she's been forced to get a babysitting job at a swanky resort. She'd expected to look after some boring brat, so Suze is surprised to find that her charge is actually a budding mediator – with a totally hot older brother.
Not that Suze's head could be turned by some guy – she's pledged her heart to Jesse, the most gorgeous ghost ever. But, it's tough when the boy you love doesn't seem to love you back, and it's even tougher when you think you've found his 150-year-old grave in your backyard. Suze knows it's dangerous to dig up the past, but how can she focus on babysitting when she could be close to discovering who killed Jesse?
Recensionen hade tyvärr raderats i databasen, men jag kommer ihåg att det här var en av de bästa i serien!





Titel: The Mediator 4: Darkest Hour | Författare: Meg Cabot | Förlag: Pan Macmillan | Format: Häftad | Sidantal: 216 | Utläst: 2005-08-18 | Utgivningsår: 2005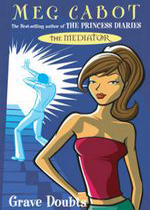 The Mediator 5: Grave Doubts av Meg Cabot
When you are in love, you don't quibble over things like whether or not the guy has a heartbeat.
Life's no picnic for Suze. Not only is she a mediator – righting wrongs between the living and the dead – she's also in love with Jesse. A dead guy. And now Suze has to contend with fellow mediator Paul Slater, who has just given her a devilish ultimatum…
Paul might be totally hot but he's got an ice-cold heart. And unless Suze dates him, he'll blast Jesse into the afterlife – for good. Suze never thought a live guy could cause her so much trouble.
Med undantag av ett ovanligt tråkigt spöke i den här boken så var den väldigt bra. Att Suze skulle vara så intresserad av Paul var väldigt roligt och att få lite mer information om Medlarna och att Suze har mer kraft än hon tidigare anat var intressant. Väntar med spänning på sista boken i serien.





Titel: The Mediator 5: Haunted | Författare: Meg Cabot | Förlag: Pan Macmillan | Format: Häftad | Sidantal: 202 | Utläst: 2005-12-18 | Utgivningsår: 2005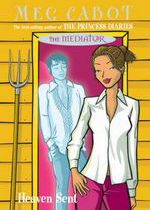 The Mediator 6: Heaven Sent av Meg Cabot
Suze has gotten used to ghosts. They wake her up in the middle of the night. They haunt her locker at school. She's even spotted a few down at Carmel Beach. Suze is a mediator, after all, and communicating with the dead is all in a day's work for her. The last thing she ever expected was to fall in love with one: Jesse, a nineteenth-century hottie.
But when she and Paul Slater, himself a mediator of undeniable power (and dubious intent), discover that the powers they share aren't limited to helping ghosts resolve their earthly woes, but can also be used to determine whether or not they become ghosts in the first place, Suze can't help but freak. Not because she suddenly knows how to alter the course of history, but because Paul, can, too. And Paul would like nothing better than to prevent Jesse's murder, keeping him from becoming a ghost and allowing him to live a natural life at last, only in the nineteenth century. Meaning Jesse and Suze would never meet.
Suddenly, Suze is the faced with the most important decision of her life: Allow the only guy she's ever loved to have the life he's always longed for, or keep him anchored forever in half-life at her side. But will Jesse choose to live without her, or die to love her?
Underbart slut på The Mediator-serien. Jag älskar lyckliga slut! Trots att man kunde ana hur det skulle sluta så var den inte mindre spännande för det. Den bästa av alla böcker i serien.





Titel: The Mediator 6: Twilight | Författare: Meg Cabot | Förlag: Pan Macmillan | Format: Häftad | Sidantal: 211 | Utläst: 2006-08-10 | Utgivningsår: 2006